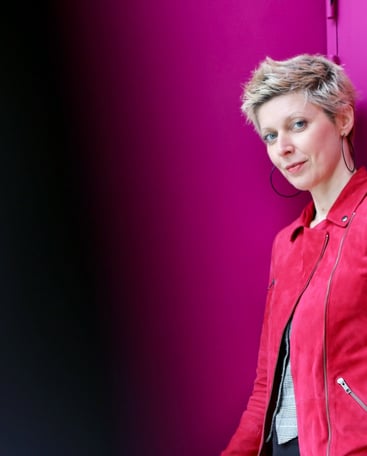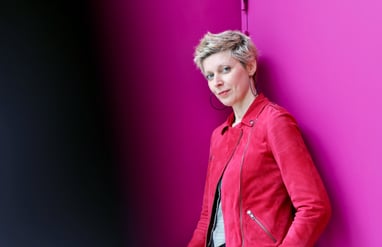 Emilie Lesbros is an artist, singer, poet, composer, graduate of the conservatory in jazz and lyrical singing. Based in New York, she is presented by The New York Times as "one of the most creative singers and composers of her generation. Emilie Lesbros is capable of combining opposites with genius: from groove to punk, from soul to jazz, drawing towards electronic music." She develops her writing and her poetic universe, and collaborates with American musicians who welcome her for her originality, her voice, her texts, her charisma, and her vision, reflection, and observation on the world and its inequalities.
Supported in 2014 by the Mid Atlantic Arts Foundation, and FACE Foundation, she was invited to compose with the American saxophonist Darius Jones, they released their album in 2015 on the prestigious New York label: AUM Fidelity : "Le Bébé De Brigitte" Lost In Translation."
Before her American migration, Lesbros sang and created on the most varied scenes, ranging from rock to punk, electronic music, passing through jazz, contemporary music, groove, theater and dance. Her solo album "Attraction Terrestre" (DFragment Music / L'Autre Distribution) definitively anchors her in an unclassifiable movement, where she can jubilantly overturn aesthetic and stylistic rules to cultivate her singular universe. Emilie Lesbros obtained the FACE again in 2019/2020 with the harpist player Rafaelle Rinaudo and their band Single Room, which was acclaimed during the creation at the MIMI festival.
Back in France, or...stuck in France... during the pandemic, she composed her new musical project under the name of Ona-Liza, this project germinated at the United Nations in New York where the singer Emilie Lesbros gave a concert for the day in tribute to the contribution of women in the processes of maintaining peace in the world, she met Nayo Loba Samba diplomat in conflict resolution who turns out to be the former drummer and leader of the band Meï Teï shô, both in France , she invites him into her new project.

She performs in concert and records with many national and international musicians such as: Kris Davis, David Allen, Barre Phillips, Darius Jones, Ches Smith, Julia Kent, Matt Mitchel, Ingrid Laubrock, Kyoko Kitamura, Hank Roberts, Gerald Cleaver, Craig Taborn, Willie Murphy, Boots Riley, Andrew Cyrille, Xavier Charles, Barre Phillips, Electric Pop Art Ensemble, Bobby Previte, Marc Ducret, MC Tabbloyd, Benoit Delbecq, Raymond Boni, Daunik Lazro, Pascal Niggenkemper, Frantz Loriot, Thierry Bedart, Archaos, Les Percussions de Strasbourg…